Cameras set
The cameras set consists of two side view cameras and one rear view camera with parking sensors. It will make it easier for you to park and control the blind spots when changing lanes.
Side view cameras: shoulder check while looking forward
HUDWAY Drive automatically turns on the video from a connected side view camera when you turn on the blinker. This is how the blind spots are made visible whenever you're changing the lane, turning or overtaking.
Backup camera: rear parking assistance automated
HUDWAY's backup camera features lighting, parking sensors and a beeper. The video is displayed on your HUDWAY Drive when you select the rear gear. That's how you know whether it's still safe moving backward — even when it's dark and there's minimal space.
The back up camera can be mounted on the front, if you wish so. It's equipped with parking sensors — when connected to a beeper (enclosed in the installation kit), it will not only give you the visual warnings of how near you to the obstacles, but also alert you with a sound when moving too close. Say, it starts beeping when there's something in the way at 0.5 m (20 in), and at 0.4 m (16 in) you just won't be able to ignore it :)
The cameras connect to a video transmitter — and at any moment, you can manually bring the video from any of them to the heads-up display. This can be preset and changed right on the video selector, or using a remote control.
Alternatively, you can automate everything by further connecting a control block: this device connects straight to the vehicle lights (reverse and turning signals) and wirelessly inform the video selector of what you're doing: switching on your left or right blinker, or selecting reverse gear. Triggered this way, the video selector will send the correct video to HUDWAY Drive.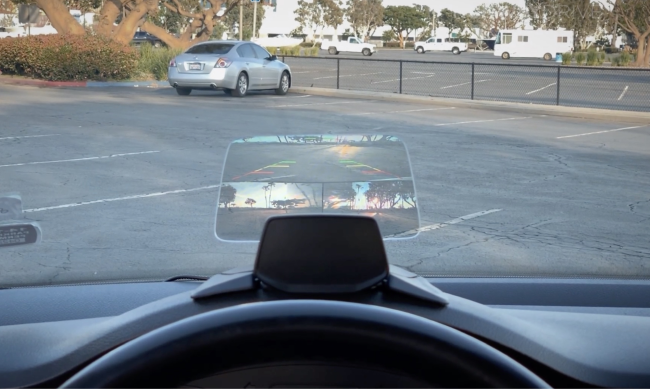 The installation of these three cameras is pretty simple — and once you have carefully hidden all the cables, the cameras will look and work as a built-in solution on any vehicle.
See for yourself (make sure you've enabled subtitles):
With IP67 (backup camera) and IP69 (side cameras) waterproof index you never need to worry about weather conditions or whether car wash will damage the cameras — and strong 3M adhesive will keep them in place.
What's in the box
Two side view cameras
Rear view (backup) camera
Beeper
Joystick
Video selector unit
Metal bracket with screws
Cables and connectors
---
Installation type:
Double sided tape
Video capture resolution:
480p
Angle of view:
120 degrees
Review
Hide Reviews
Great addition to the hudway system
After about a week of use I have decided that this is definitely something I would buy again. Instillation was kinda a pain but that more just because I put a lot of effort in hiding all the wires, also I did not look at the tutorial. After instilation and use ive noticed a couple things, one of which is when running a camera the feed will have lines move up or down across the hudway display depending on engine vibration. though that is something you really need to be watching for to even notice. also as a heads up the system itself will require you to wire it into your cars electronics. it uses 2 22 aug black and red wires (1 red with inline fuse, 1 black) so far I have had no problems with the system itself however sometimes the wires almost didnt reach where they needed to go, and I drive a compact coupe. However any problems of that nature can be fixed by getting dash cam 4 pin universal extensions. all in all its a good product and Its something I highly recommend, Though during instillation make sure to clean anywhere you are putting the double sided tape on before you apply it or the tape will get dirty and you will be forced to use clear sealant to get things to stay in place.